Spruce up the bedroom's design elements to encourage romance. A boring beige room with no art, no accessories and no cohesive design scheme is a room with no romance, so get creative and design something warm and inviting. Cohesion is a major concern, so pick patterns and colors that complement each other. Mirrors make the room seem larger and give you and your partner the opportunity to get a look at yourselves.
Making the room feel like it's his and hers is the first step to creating a romantic bedroom.  Make a showcase out of his and hers matching bathrobes.  Pick bathrobes that are made out of some great material, like silk and maybe have embroideries on them.

Install some kind of music system in the bedroom.  Soft music can create the mood.  It can be classical, country or alternative – as long as it relaxes you and makes you feel romance.

Scents can be very romantic also.  Select some great flavored essential oils.  Their light and beautiful aroma might put you in the mood.  Candles are also wonderful for a romantic atmosphere in bedroom.  When you select the candles for your bedroom make sure they are light scented, so that the aroma is not too strong and intoxicating.  Get a lot of these candles in the colors that go with your bedroom, or make the candles your focal point in the room by selecting bright colors.  To allow the candles work their magic, turn the lights off.  Just watching the candles give off soft flickering light creates comfort, warmth and relaxes the spirit.  Essential oils and candles are a great alternative to an expensive fireplace.  Just remember to be careful and keep all fire a certain distance away from all objects.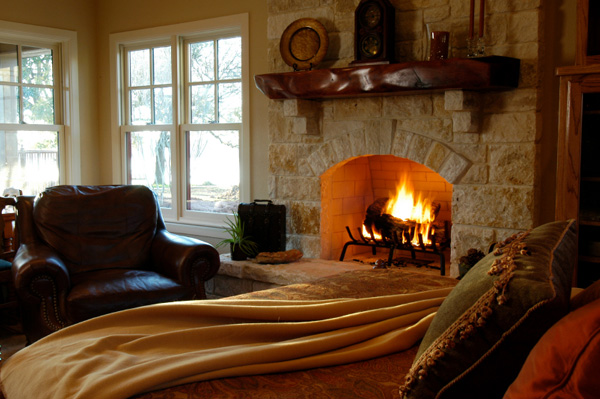 Another way to make the bedroom more romantic without the help of candles, oils or fireplaces is to simply replace your lamps with weaker bulbs or use dimmers to create less light.  Toning down the lighting is the first major step to creating romance.  It relaxes your eyes and makes the room cozy.


Flowers or plants go a long way in the romantic atmosphere.  Select the flowers to match the overall decor of the bedroom or other accessories, like candles.  The flowers should also match the style of the room.  For example, if your style is country, then get wild flowers, like daisies or sunflowers; if your style is Victorian, then purchase roses or chrysanthemums.  Tie the flowers together with silk ribbon for more interest.  You can also put ribbon bows on the vase.


Champagne and chocolates are any romantic's accessories.  Have them in the room for your relaxing evening.  Put the champagne in an ice bucket and pick out some lovely flutes.  Purchase assorted chocolates so that your partner can choose whichever ones they want.
There are also massages and breakfast in bed, but I think you have enough to start your pleasant time.  Use a few of the suggestions in combinations, like candles and flowers to create the most romance in your bedroom.